Print this voucher and present it when making your purchase.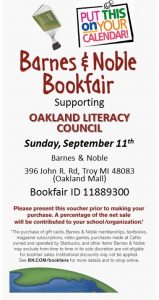 After a bit of a hiatus, we resumed our quarterly brain storming get-togethers for tutors. At this meeting tutors had opportunity meet the new executive director and discuss with other tutors successes, strategies, roadblocks, and solutions.

On Wednesday, March 18, Irene Sinclair OLC tutor conducted a workshop for fellow tutors. It was a sell out crowd. Irene shared her vast teaching knowledge earned through more than 30 years of teaching. The group was attentive, entertained and enriched.
Some of Irene's key messages were relax and have fun. She provided easy and focused tutoring techniques for the group which was comprised of new and seasoned tutors. The workshop was a huge success and will be sure to be offered again. Thank you Irene!
Tutors become students
Copious note taking
Taking it all in
Your $250 donation will provide two professional development workshops for tutors.