Do You Need Reading Help? Do You Need to Speak English better?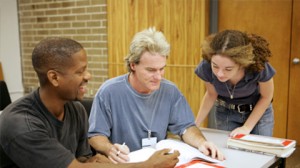 The Oakland Literacy Council offers free one-on-one tutoring in basic reading and English language skills to adults. Our trained volunteer tutors and quality literacy programs offer students a friendly and welcoming environment to learn and improve their reading, writing, and comprehension skills. Students and tutors meet weekly in your local community at a time that is convenient for you.
Digital Literacy
The Oakland Literacy Council will also help you get the digital skills needed to participate in our programming.  In addition to one-on-one tutoring, students will have online educational software and the opportunity to participate in group learning.  The Council also has some limited availability for loaning laptops and subsidizing high-speed Internet service.
Basic Eligibility
Are you 18 years old or older?
Do you work or live in Oakland County?
Do you have low reading or English skills?
Do you have two hours each week to meet with a tutor?
Do you have time to study at home?
Getting Started
If you are interested, fill out the form below. Call us at (248) 253-1617 with any questions.
After your form is submitted we will call you to schedule an appointment for intake and initial testing.  There is a $25 fee for testing.  However, once enrolled all tutoring is free.