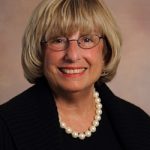 September 12, 2018, Pontiac, Mich. – On Thursday, August 30, Commissioner Shelley Goodman Taub introduced a budget amendment to appropriate $10K to be utilized in partnership with the Oakland Literacy Council for an Oakland County Adult Literacy Program. The amendment passed in the Finance Committee and will be included in the recommended 2019 County Budget, which will come before the Board of Commissioners for adoption at their next full board meeting on September 27, 2018 at 9:30 a.m.
"As a former teacher, literacy is an issue that is near and dear to my heart," said Commissioner Taub. "It is also an issue that many people do not realize impacts so many lives. In Oakland County alone, more than 100,000 adults are estimated to function at the lowest literacy level. The ability to read is critical to a person's dignity and their ability to support themselves and their families. This funding will go towards helping Oakland County residents in need achieve literacy and improve their lives."
The Oakland Literacy Council will use the Oakland County funding to support tutoring services for low-literate Oakland County residents, provide writing workshops for pre-GED students, offer student job workshops and much more.
"The ability to communicate well, both in speaking and in writing, and to read and comprehend content, is crucial for adults who desire to move up from the most menial jobs," said Oakland Literacy Council Executive Director Lisa Machesky. "Through the council's one-on-one tutoring program and our targeted small-group workshops, we are able to equip adults in Oakland County with the literacy skills they need to prosper in our economy. Commissioner Taub has consistently championed literacy and education and we're grateful to have the support of the Board of Commissioners as we help our students realize their literacy goals."
---
Since 1984, the Oakland Literacy Council has focused on providing free tutoring services for adults in either basic literacy or English as a Second Language (ESL). It is a nonprofit organization and serves hundreds of students throughout Oakland County each year. To learn more about the Oakland Literacy Council and its many programs and services, please visit www.oaklandliteracy.com.
Commissioner Taub is a Republican and represents District 12, which includes the cities of Birmingham and Bloomfield Hills, as well as portions of Bloomfield Township. She can be contacted by phone at 248-420-8870 or via email to shelleytaub@comcast.net. More information about the Board of Commissioners is available at www.oakgov.com/boc or by calling 248-858-0100.