The Oakland Literacy Council recently launched a Back to Basics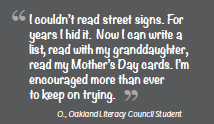 fundraising campaign to increase the number of adult basic education students.  All donations made to this campaign will be doubled up to $25,000 by a match provided by the Board of Directors and other generous donors.
In Oakland County, over 100,000 people lack basic literacy skills and need the one-on-one tutoring help that the Oakland Literacy Council provides.  The Back to Basics initiative strives to increase the number of adults receiving basic education tutoring by 65%.  Donations will be used to serve more students like James.