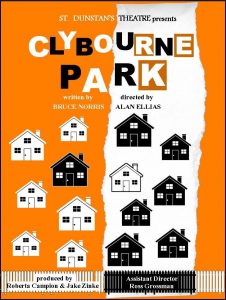 Help the Altrusa Club of Greater Birmingham support the Oakland Literacy Council! A portion of each ticket sale of this special performance of Clybourne Park will benefit OLC.
Sunday March 11, 2018
1:00 p.m. for reception
2:00 p.m. curtain
St. Dunstan's Theatre Guild of Cranbrook
400 Lone Pine Road
Bloomfield Hills, MI 48304
Tickets: $25 per person
Seating is assigned as checks are received.
For reservations mail a check payable to Altrusa to:
Maxine Smiley, 31945 Carlelder, Beverly Hills, MI 48025
248-647-5888
Tickets will be held at the door.
About Clybourne Park:
A razor-sharp satire about the politics of race.
Winner of both the Pulitzer Prize and the Tony Award for Best Play, Clybourne Park is a razor-sharp satire about the politics of race. Act One takes place in 1959, as white community leaders anxiously try to stop the sale of a home to a black family. Act Two is set in the same house in the present day, as the now predominantly African-American neighborhood battles to hold its ground in the face of gentrification.