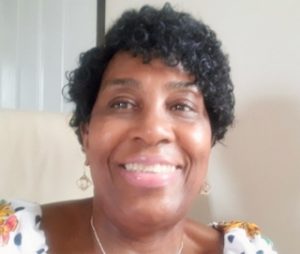 In the last year, we have all felt keenly the loss of things precious to us – for some, the loss of a loved one or a job; for all, the absence of social gatherings, shared meals, outings to favorite spots, and hugging a friend. In the midst of so much loss, Rachester Motley set her sights on what she might gain.
Rachester remembers praying, "Lord, I want to come out of this pandemic with more. Let me come out with something new from this."
Eight months later, that "something more" is coming to fruition in Rachester's life. She's enrolled as an Oakland Literacy Council basic education student and is making great strides in her reading ability.
At 66 years old, this step marks a big change. "I used to have the attitude that I was too old," Rachester says. "But then something came over me and said, 'you're never too old to learn, you can do it' and my thinking switched. I wanted to become more independent at my age."
Following that realization, Rachester was introduced to Oakland Literacy by community partner Neighborhood House. Then it was time to tackle the first hurdle — learning to use a computer so tutoring could take place virtually. Oakland Literacy Council's digital literacy coordinator, Patti Shayne, provided Rachester with a computer and helped her master the basics of using Zoom and the appropriate educational software.
From there, Rachester began meeting virtually with her tutor, Jill Cook, twice a week. She values the one-on-one instruction that makes the most of their lesson time.
"I love working with Jill," Rachester says. "One-on-one, there are no distractions or interruptions. Jill works with me, she's building me. It's like I'm learning to crawl, then walk; each step is like a new beginning. Jill understands me and I feel comfortable."
As Jill and Rachester work through the Barton curriculum, a multi-sensory curriculum based on Orton-Gillingham and adapted for virtual use through a tool called Whizzimo, Rachester is discovering the joy of reading.
"One day, I saw a book called Who Is Kamala Harris? and it just looked so tempting!" Rachester says, referring to the newest edition in "Who HQ," a best-selling history series written for middle-grade readers. "I was so excited! I bought the book, and Jill and I went through it together. But I also re-read it by myself and I would highlight sections or put a question mark next to something I wanted to ask Jill. I love that reading lets me hear other people's stories and learn about them."
While literacy and digital literacy have immense practical benefits – Rachester's goals include using email more often and learning how to securely pay bills and shop online – Rachester speaks most passionately about the personal growth she's experiencing thanks to her newfound skills.
"I have more confidence in myself," she says. "This is making me stronger, making me believe in myself. It's a wonderful feeling."
Rachester encourages others to push through the reluctance that once held her back. "Reach out and ask for help. It will make you feel very good to know you can do things for yourself; you have power. You can get help, hold on to it, and learn as much as you can. That's true for any age."