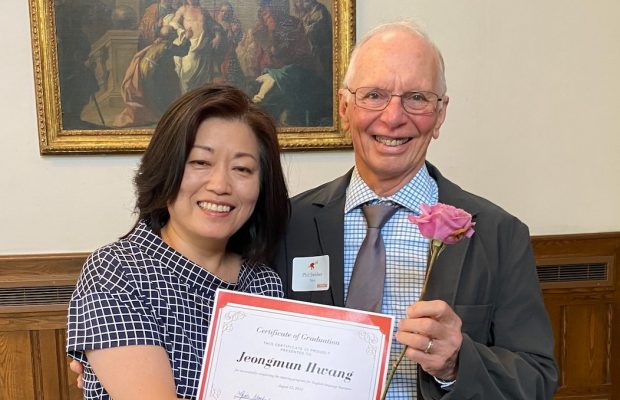 After retiring from a career in engineering, Phil Swisher didn't sit still long. His passion for personal connection led him to extend his cheery demeanor to help others as an Oakland Literacy Council (OLC) volunteer tutor.
Since joining OLC, Phil has tutored three students, all who have immigrated to the U.S. from Korea. His two former students have both graduated from OLC's program!
Phil's students have shared a common goal – to improve their English in the workplace. But that goal has meant something different for each student, so Phil has tailored his approach to meet each student's needs.
2020 graduate Jeongmun, who was working in logistics and product control, became more proficient speaking with customers on the phone. Phil helped Jeongmun expand her vocabulary by providing vocabulary lists, practicing reading and summarizing articles, and giving creative writing assignments, including poetry. 2021 graduate Jihyun wanted to improve his formal presentation skills to better show his company's automotive products to potential customers. Phil and Jihyun spent hours on Zoom rehearsing the presentations. Phil's current student, Kunwoo, wants to improve his English to socialize more comfortably with coworkers, so Phil and Kunwoo focus on informal conversation and American colloquialisms.
As a tutor, Phil consistently goes above and beyond by creating extensive and individualized lesson plans and unique exercises to help his students build language skills. He designs his lessons around each students' competency level and goals. Phil keeps personalized binders for each of his students, which contain their lesson plans and pictures of their achievements upon graduating. Jeongmun noted that Phil clearly understood her comprehension level and was able to advise her with whatever she needed. Phil also makes a point of checking in with his students who have graduated.
Tea-ching Words of Wisdom
Phil uses a large swath of resources, including article databases provided by Oakland Literacy Council. His hallmark exercise involves a collection of tags from Salada tea bags. Each tea bag features "Words of Wisdom."  At the end of each session, students pick a tea bag. These special messages advance students' reading, listening, writing, and comprehension skills and have the added benefit of some sage advice! (Phil also compiles posters on the computer that feature his students' favorite Salada Tea Words of Wisdom.)
Despite his obvious passion for teaching and glowing reviews from his students, Phil is incredibly humble about his role, often downplaying his talent as a tutor. Phil prefers to highlight his students' hard work and notes that, "Students don't realize how good their English is!" Additionally, he maintains an open-minded approach to teaching his students and appreciates the opportunity to learn from them in return.