Opening a restaurant during the pandemic takes incredible courage, but then so does immigrating to a new country with one's family. Daewoon Choi has done both.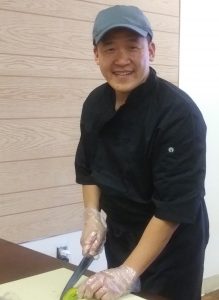 Daewoon brought his wife and teenaged daughter and son to the United States in 2017 from South Korea. The primary reason for moving: to secure better educational opportunities for the children.
Although Daewoon had worked for the city government in Korea, he took a job in his sister's sushi restaurant when he arrived in the U.S. After working in restaurant kitchens for three years, the 50-year-old took the leap to open his own restaurant with a business partner in May 2021.
Sushi Yeoubi is tucked into a strip mall in Lake Orion. For now, it has just three employees and functions as a carryout establishment, although the space has tables, where customers can eat the fresh California rolls, spiced tuna, and other specialties that they've purchased at the counter.
The restaurant's name Yeoubi means "sun shining through the rain," Daewoon explains. It is a fitting expression for something good happening in the midst of a difficult time – like launching a restaurant in a pandemic or learning a new language and new culture in a strange country.
Supporting Daewoon through the stress of establishing himself in the U.S. and starting a business has been his Oakland Literacy Council tutor, Sue. "I came here, and I had no friend in America," Daewoon says. "I talk about my problems with Sue and share my ideas. She's now a very good friend."
In keeping with the Council's mission to meet students where they're at, Sue has helped Daewoon learn the language of day-to-day American life such as home, yard and car maintenance as well as the language of his new business venture such as the terms in the lease agreement with his landlord.
Although Daewoon had studied English in Korea, he struggled to speak English before working with Sue. "My pronunciation is so bad," Daewon says. Sue gently corrected his efforts to pronounce words with difficult r, l, and w sounds, he says. Speaking is easier now, he says.
"The skill I am most proud of giving Daewoon is confidence," says Sue. "Confidence to talk on the phone, to look at Americans and make small talk, to communicate with bankers and landlords and building inspectors. He was already brave enough to emigrate with his wife and adult children, and smart enough to use the web to learn how to fix anything and to start a new business with all the COVID-19 restrictions."