The Oakland Literacy Council recently launched a Back to Basics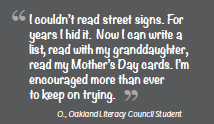 fundraising campaign to increase the number of adult basic education students.  All donations made to this campaign will be doubled up to $25,000 by a match provided by the Board of Directors and other generous donors.
In Oakland County, over 100,000 people lack basic literacy skills and need the one-on-one tutoring help that the Oakland Literacy Council provides.  The Back to Basics initiative strives to increase the number of adults receiving basic education tutoring by 65%.  Donations will be used to serve more students like James.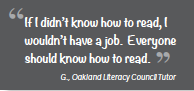 James recently returned to Pontiac after serving 12 years in prison.  He knew he needed to improve his English skills to support his family.  James had a high school diploma but admitted that he had problems learning.  He obtained a job soon after release.  His employers were so impressed with his hard work that they wanted to promote him to a floor supervisor.  James knew he couldn't do the job.  He had to learn to take notes and write messages for this new position.  He is now working with his tutor to obtain those skills.  Imagine how he will feel when he is promoted and shares the news with his family.
With improved literacy, more Oakland County residents will be able to:
Obtain better jobs and create a pathway out of poverty,
Enter training programs,
Complete their GED or take college classes, and
Better manage their health care needs.
Most of all, a gift to the Back to Basics campaign will allow students to dream about a better future.
Gifts are tax-deductible and can be made online at http://tinyurl.com/donatetobacktobasics .